Women of Winter – Interview with Kari Brandt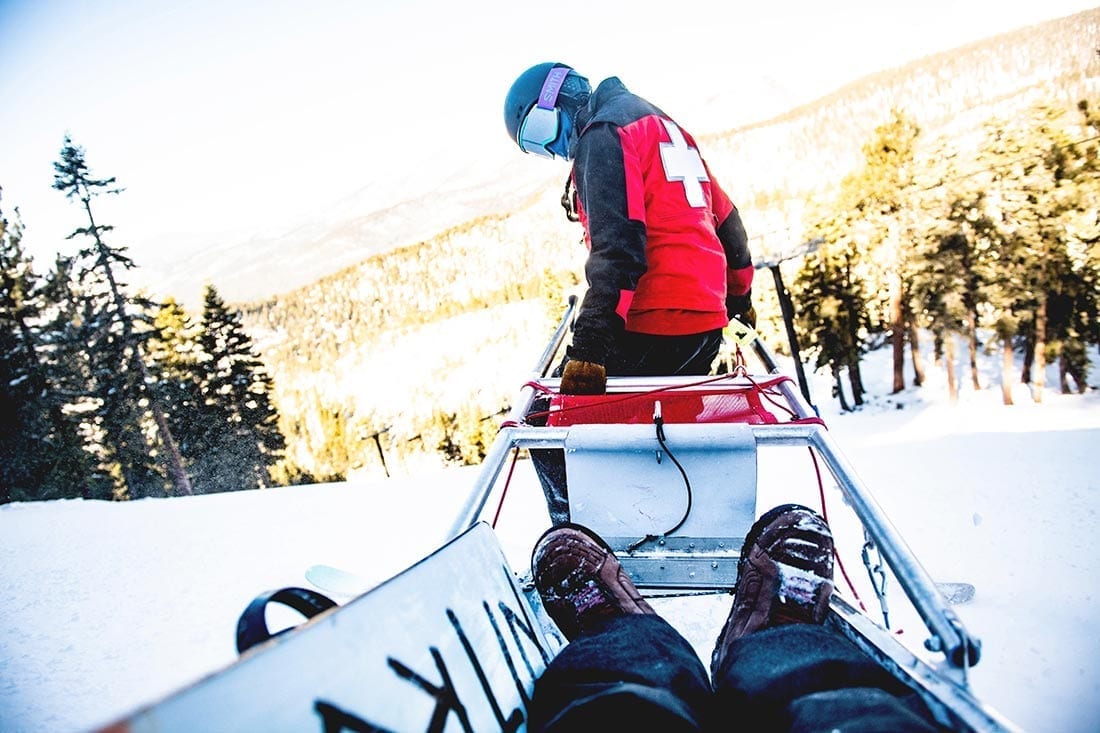 The women of North Lake Tahoe have carved out space in their respective industry and worked tirelessly to own the titles and credentials next to their name. In honor of International Women's Day and Women's History Month, we want to celebrate the stories and lessons of four incredible North Lake Tahoe women who continue to inspire and motivate us all to blaze forward with unwavering Sierra resilience. Our first interview is with Kari Brandt, Director of Ski Patrol at Diamond Peak – the regions only female Ski Patrol Director.
And stay tuned to the GoTahoeNorth blog throughout the month of March to learn about three more remarkable women breaking barriers and setting examples for future generations.
Meet Kari Brandt, Director of Ski Patrol, Diamond Peak
Follow her: @WomenofPatrol
Editor's Note: a portion of this interview originally appeared in the November 2020 issue of Moonshine Ink.
You found a combined passion for emergency medicine and outdoor adventure. How did you decide to trust yourself early on and turn these passions into a career?
I took a NOLS Wilderness First Responder (WFR) Course that helped me identify an interest in Emergency Medicine. I enrolled to become a Hiking and Backpacking Guide for the Yosemite Mountaineering School and halfway through the WFR course, I enrolled in an EMT program with a new goal of becoming a Ski Patroller to help pay my way through a master's degree program.
In my second season of patrol at Snow Valley California, I was promoted to supervisor. My Patrol Director saw something in me I hadn't yet seen in myself. I was encouraged to pursue certification through the Association of Professional Patrollers (APP), and it was after that second season that I became determined to make a career in the ski industry. I had an extremely quick progression to the top; the following season I was promoted to Patrol Director. Although it took a bachelor's degree in Math, teaching credential in Math and P.E. and a master's degree in Integrated STEM Education to realize where I wanted to spend my professional career, I am so glad for the journey and where I am today.
The ski patrol community is a tight-knit group that often finds themselves in extremely challenging circumstances. How does your "office" culture differ from most?
I have the best office in the world — if you have skied at Diamond Peak, you know exactly what I am talking about. Although my position still requires office work, I get to sit at my desk with ski boots on every day. A patrol becomes a super close-knit team. Partially because we end up in small shacks across the mountain together but also because many of us share the same passions and we truly work together as a team when the job gets difficult. It isn't always high stress, but there are moments that are extremely challenging. A close-knit team helps in these situations.
After your toughest days, what do you do to decompress?
My crew and I conduct a debrief at the end of each day. This opens a constructive dialogue and allows us to look objectively at our job. The result is learning and growing as a team. The après ski culture is also strong in our professional world; this downtime provides an opportunity to connect and expand the bond we have as patrollers.
You're going into your second winter season leading Diamond Peak's ski patrol. What are some of your key takeaways from the past year and how are you approaching this winter?
One of the biggest takeaways from last season is the importance of support in a work environment. My manager and the rest of the mountain operations management team at Diamond Peak is world-class. They are some of the best in the industry and having their unconditional support through last season made a huge difference in my job performance. I was excited about coming to work every single day. Because of this teamwork and support, I have the ability to further develop training programs for my patrol team this season and dedicate more time to helping my staff — both as a team and as individuals.
Of your many certifications and accolades, you created Women of Patrol, aplatform for women ski patrollers to meet up, support each other, and participate in specialty clinics. Tell us about your motivation to start that and why:
After participating in two women-focused clinics, I saw firsthand the power of women training together and the importance of talking through our challenges in this field of work. From there, I knew I wanted to do something more to highlight the amazing women I was meeting and learning from. I started with an Instagram account titled Women of Patrol. The response was amazing and way bigger than I anticipated it would be. Female patrollers from across the world share their photos and I have been able to make some really amazing connections through the platform. My goal is to continue promoting women in the industry and show that ski patrol is not just a job for men – it is a job well within their reach. Having a diverse group of people on any team only makes it better. I'm committed to helping with the growth and development of female patrollers and am expanding Women of Patrol into a nonprofit organization.
How do you facilitate growth for women in your industry and what advice would you give for someone starting out?
The first step to facilitating growth for women ski patrollers is exposure. I created Women of Patrol to show women being really successful at their job and to also continue facilitating clinics for women to network and learn together. I want to create connections among women just starting out in their careers with those who are more advanced.
My advice for people starting out is to obtain all the necessary certifications. Different ski resorts require different certifications, so make sure to check with the patrol that you are interested in joining. It's also important to be an expert skier or snowboarder – you must be able to get anywhere on the mountain and be competent and comfortable in any terrain. Another key is to learn about the different ski resorts in your area. Some people really like the bigger corporate resorts and others find enjoyment at the smaller community owned resorts. Try both to determine the best fit. Lastly, don't be afraid to give it a shot. Many of the skills required to be a ski patroller are learned on the job and everyone has to start somewhere. Have confidence in your abilities to learn those skills, we don't expect you to have all of them when you start!