Women of Winter – Interview with Michelle Parker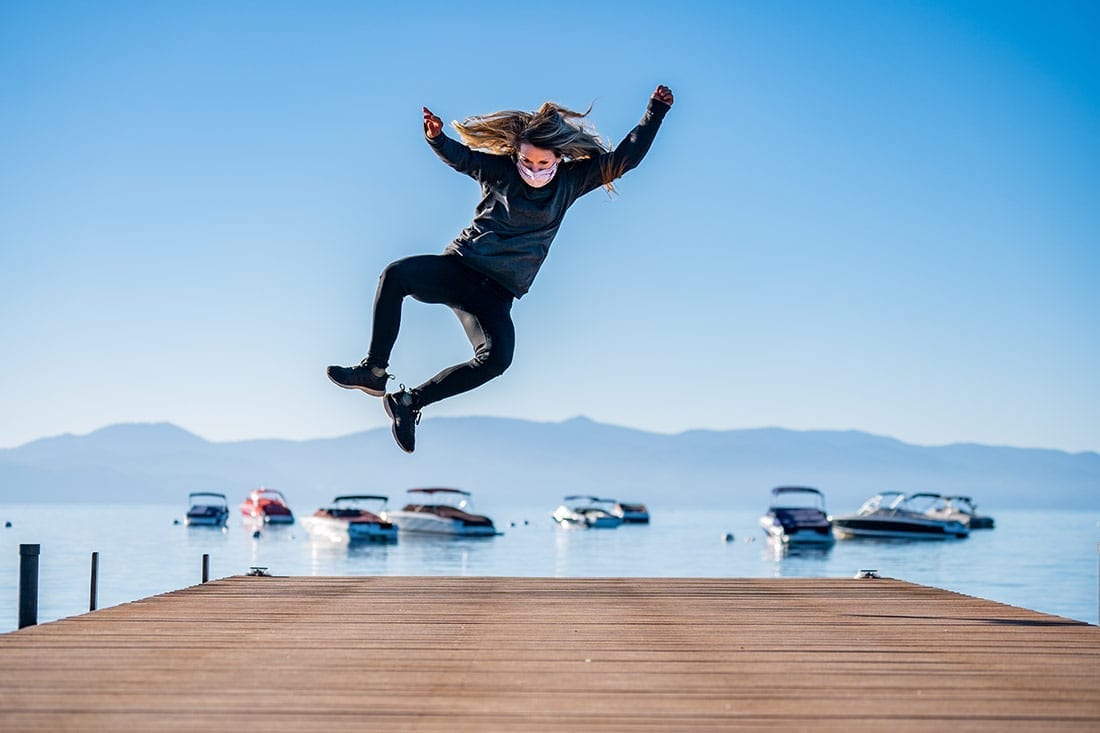 Our second blog in the Women's History Month series highlights a conversation with Michelle Parker, a professional skier, photographer, musician, and advocate who grew up in Olympic Valley and credits the Sierra mountains for structuring her community and mindset. A portion of this interview was originally featured in the November issue of Moonshine Ink and was written by Liz Bowling.
Follow her: @myshellparker
Check out the other blogs in this series:
Kari Brandt, Director of Ski Patrol at Diamond Peak
The mountains are clearly in your blood. How has growing up in the Sierra shaped the person you are today?
I grew up in Squaw Valley and was influenced by supportive parents, ski coaches and various relationships that formed as a result of constantly being outside. The mountains raised me by structuring my community and mindset. I'm still close with the same individuals who helped develop my confidence and the desire to improve my skillset as an athlete. I am acutely aware of how that foundation translates into my broader life and business approach; the mountains established an openness to learning and they have become a reflection of who I am.
How do outdoor environments inspire you?
I am re-energized in the mountains — I feel most like myself because there is natural space to think and reflect. I find freedom, gain inspiration and tap into a childlike mindset, which has been crucial to staying grounded. The outdoors teach me patience, respect and deep life-lessons that have intermixed exhilaration and success with experiencing tragic loss. I've also discovered a creative side of myself through photography and music. Goldie is a photo journal that documents my journey as a skier through my beloved Contax T2, a compact film camera from the 90's. All proceeds of the book go to Protect Our Winters, a global nonprofit fighting Climate Change. Several years ago, I picked up a ukulele and its uplifting tune is a perfect companion to any campfire. I've had the opportunity to integrate some of my music with film segments and seeing the two worlds combine was a powerful experience.
You've shared that the idea of being a professional skier was not even in your realm of possibility when you were younger. What changed that mindset and how?
I wasn't exposed to other females in this sport; there were not a lot of role models for me to look up to and the path wasn't clearly paved. While I viewed skiing as my greatest passion and watched guy-friends excel into the professional world, it didn't occur to me that I too could make a career out of what I loved the most. When I was approached by a sponsor at Squaw Valley who didn't realize at first that I was a woman, that's when things started to shift. I became part of the conversation and from there it all started to unfold. Younger women should know that anything is possible.
What's your message to the next generation of female athletes?
The message I want to portray throughout my career is that if you believe it, you can do it. I have experienced a number of firsts — participated in the first women's X Games, competed in slopestyle and halfpipe at the US Open, and have started my own short movies with Red Bull. My number one message would be to speak up. Sometimes women don't feel comfortable taking the initiative and asking for what they deserve. Own the space! You are worth it. You are valuable.
What does female camaraderie and advocacy in the winter sports industry look like? Feel like? What does it mean to you?
On a daily basis I am constantly seeking out women partners. I want to use my platform and give women screen time to shine. We have meaningful conversations by phone, discuss contract negotiations and work together to level the monetary playing field among our male counterparts. We build relationships, empower one another, and create content that inspires and pushes us forward. We are ambitious and as leaders in the sports industry, we are thinking about what the future will look like. Sometimes there is a competitive nature among women – I think it's important to set an all-inclusive, supportive and positive example.
What does it mean to me? Physically being out there and putting forth my best. I get fired up to prove my worth.
If you were to identify your most powerful mountain adventure what would it be and why?
I was invited on a trip to the Kichatna Spires (deep in the Alaska Range) with Chris Davenport and Jim Morrison. They are extremely knowledgeable athletes — the best at what they do and super dialed as a team — and it was at that moment that I realized I was able to hold my own in that type of terrain where a multitude of skillsets come into play. Christian Pondella documented the expedition and captured the steepest lines I've ever skied, the most exposed I've ever felt. And I was 100% confident. During that trip I realized my skill set. The power of the mountains is real and the experience made me reevaluate the risks I was willing to take. I pushed myself physically and mentally, reconciling my space. I also discovered that I can have equally as much fun with my mom and dad making turns at our local resort as I do pushing myself in those challenging moments.
I've admired how you approach important cultural topics on your Instagram page, not shying away from using your voice and platform to talk about climate change, Black Lives Matter and causes you support. What scares you? What makes you hopeful?
The divisiveness of our country is scary. As I've spoken up about social justice issues and climate change, some of the feedback I've gotten warrants a thick skin. What I've realized is that I'm a much better activist if I continue finding the positives — people rising to the occasion and using their voice to evoke conversations about diversity, inclusion and science. I want to help create change and raise those voices on my own platforms. I'm listening to experiences and turning to people and organizations doing amazing work. I've felt guilt as a white person taking up space. I've taken time to learn about white privilege and it's changed my perspective and overarching approach.
I'm committed to doing something versus being idle. I want to create change. The more I learn, the more I want to speak up and use my voice in a positive way.
You really stepped up to help your community during the COVID pandemic — from delivering food to organizing giveaways and participating in the Mask UP Tahoe campaign, donating your time for the betterment of your community. What motivates you to give back?
I am an empathetic person and doing good makes me feel good. I think of activism as something that needs to start at home — that's how actions create a ripple effect. My North Lake Tahoe community means so much to me; the familiarity, the sense of community. Giving back was an easy thing to get motivated about. It was back to the basics, honoring my roots of being raised in this beautiful place.
What are you reading? What are you listening to?
Reading: Breath, Braiding Sweetgrass, Americana, Between the World and me
Playlist: Lately a lot of Jazz Funk. I spend a decent amount of time in Portland, OR and I'm missing live music so much. (others: Khruangbin, Gold Fir, Leon Bridges, The Barr Brothers, Sturgil Simpson, Colter Wall, Lukas Nelson and Promise of the Real)