WinterWonderGrass 2020: The Bluegrass Lover's Guide to North Lake Tahoe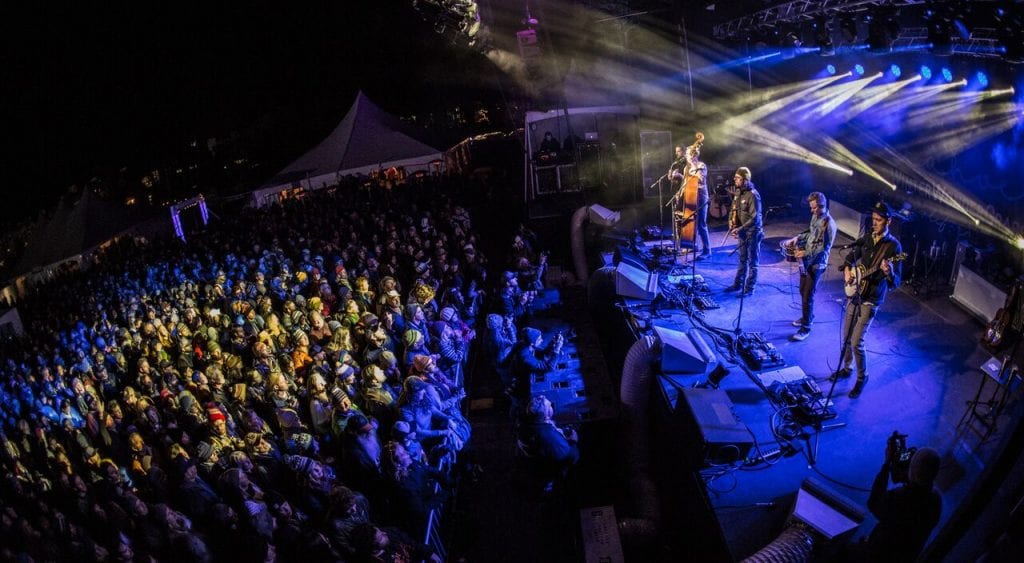 WinterWonderGrass returns to Squaw Alpine for its sixth year! Photo courtesy of Dylan Langille
**UPDATE** We're saddened to say that the March 2020 Winter WonderGrass Festival has been postponed due to concerns surrounding the COVID-19 (Coronovirus) situation. We are scheduled to come back to Lake Tahoe April 9-11, 2021. For more information, please visit: winterwondergrass.com
WinterWonderGrass, the annual alpine celebration of bluegrass music and springtime in the Sierra, returns for its sixth year to Squaw Valley on March 27th – 29th. Bluegrass and Roots music fans all over the world will travel to North Lake Tahoe for a weekend of craft brews, stunning mountain landscapes, incredible spring skiing, and of course, fantastic live music.
So what is there for a bluegrass fan to do in Lake Tahoe when they aren't at the WinterWonderGrass festival? For every type of fan out there, North Lake Tahoe offers a variety of ways for festival goers to pump themselves up or wind down for the big event.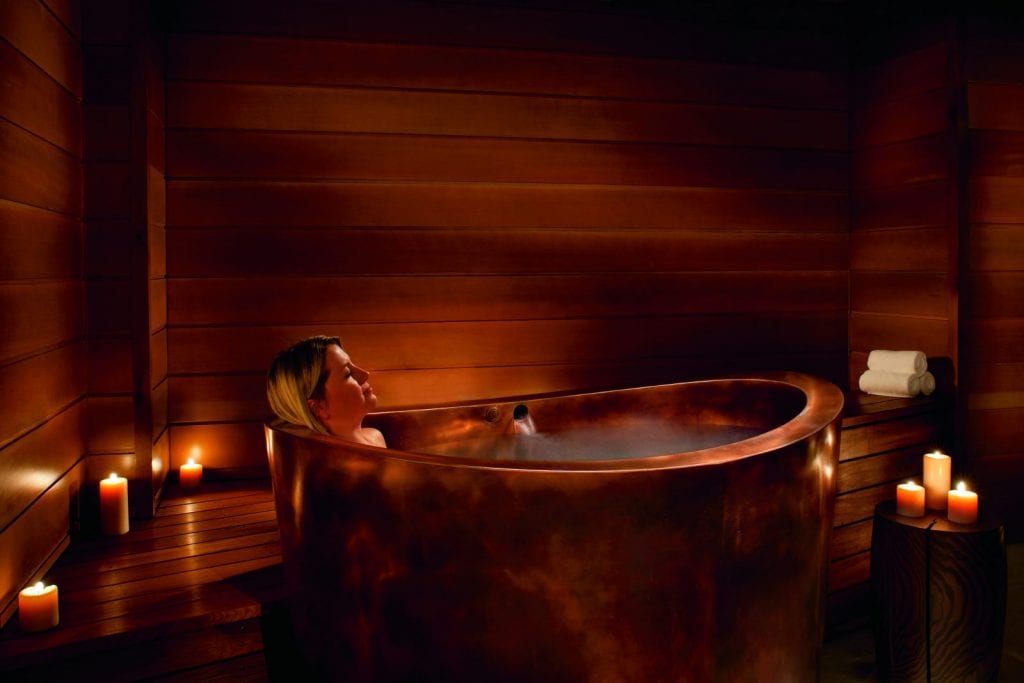 Enjoy a little "me time" with a relaxing dip at The Ritz-Carlton, Lake Tahoe. Photo courtesy of Chris Cypert
For the Mellow Bluegrass Fan
You're the type of bluegrass fan that likes to stay in touch with the roots of the genre, preferring a more traditional sound with a classic banjo and fiddle firmly at the forefront. You like to keep a profile and WinterWonderGrass represents the perfect opportunity for you to enjoy the tunes you know and love while basking in the glory of the serene alpine landscape.
In your downtime, take the chance to explore the surrounding landscape of North Lake Tahoe to get the most out of your stay in this one-of-a-kind location. Strap on your snowshoes and take a trek along any of North Lake Tahoe's scenic snowshoe trails, and enjoy a serene snowy scene in between getting lost in the crowd at WinterWonderGrass.
If rest and relaxation are what you need to decompress, The Ritz-Carlton, Lake Tahoe offers spa amenities without the need for an overnight stay, giving you the perfect "daycation" before letting loose at the festival.
Spend some quality time with your family by roasting marshmallows at Northstar California Resort. Photo courtesy of Northstar California
For the Family that Jams Together
For you, WinterWonderGrass is a family affair and everyone is invited! You love bluegrass music so much, you've started to get your kids into it too, and they might be just as excited to go as you are. North Lake Tahoe offers a variety of things for families to do to make your bluegrass weekend fun for everyone!
Head to Granlibakken in Tahoe City for a round of family-friendly sledding, where both you and the kids can race down the slope in a picturesque mountain landscape. Once you've had your fill, head down the hill to the Ski Hut Snack Bar and roast delicious s'mores together over a toasty fire pit.
For more adventurous families, climb and swing through the snow-covered trees at Tahoe Treetop Adventure Park. With three locations around the north shore for you to explore, this is a great way for children age 5 and up to have fun and channel that boundless energy just in time for you to enjoy a more mellow bluegrass concert. Read more about Tahoe Treetop Adventure Park with our Treasures of Tahoe guide to high-flying adventures.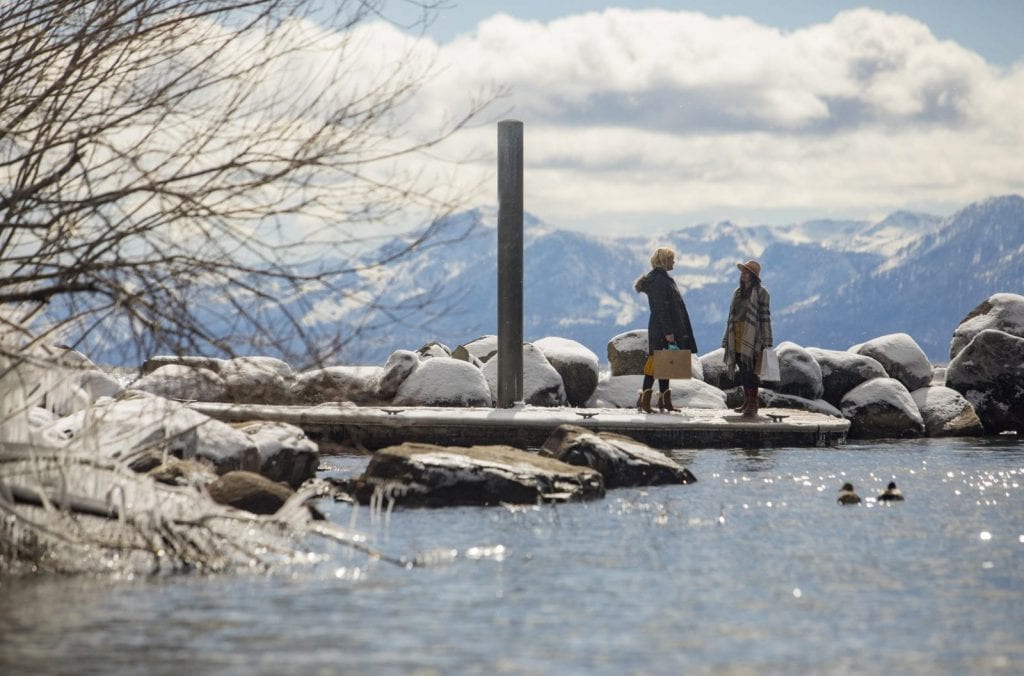 Take time to explore iconic Tahoe spots like Kings Beach. Photo courtesy of Ryan Salm Photography
For the First Time Festival Goer
You're new at this, so you're not the most familiar with what to do and where to go at a music festival. Perhaps you're a long time bluegrass fan and this is your first time going to WinterWonderGrass, or your first time going to a music festival at all. Maybe, you're fairly new to the bluegrass scene and you're just there because a friend had tickets. That's okay! There's still a lot for you to enjoy about WinterWonderGrass and your time in North Lake Tahoe.
In your spare time between sets at WinterWonderGrass, take a quick trip around the North Shore to see some of North Lake Tahoe's most iconic spots. Kings Beach is one of the most popular sites for visitors in the area, perfect for long walks along the beach with a gorgeous view of the lake. Sugar Pine Point State Park is another local favorite where you can hike along the park's extensive trails, and even check out the exterior of one of North Lake Tahoe's historic landmarks, The Hellman-Ehrman Mansion.
Any traveler's first time in Tahoe should include incredible springtime skiing, where guests can experience "bluebird days", a combination of blue sunny skies and snow! Luckily, Squaw Alpine has made it easy (and affordable!) for festival-goers to have a chance to hit the slopes over the weekend with a discounted 3 days of skiing for only $199! All it takes is a valid WWG Festival ticket and you can experience the best of Tahoe skiing in between sets.  And if you're too busy soaking in the bluegrass sounds to use all 3 days of skiing, your tickets are valid through the end of the season.  
Of course, no trip to North Lake Tahoe would be complete without a Wet Woody from Gar Woods! Celebrate your first time in North Lake Tahoe by enjoying this iconic Lake Tahoe drink, with a gorgeous lakeside view to match! If there's any spot you visit during your time in North Lake Tahoe, this one should be at the top of your list.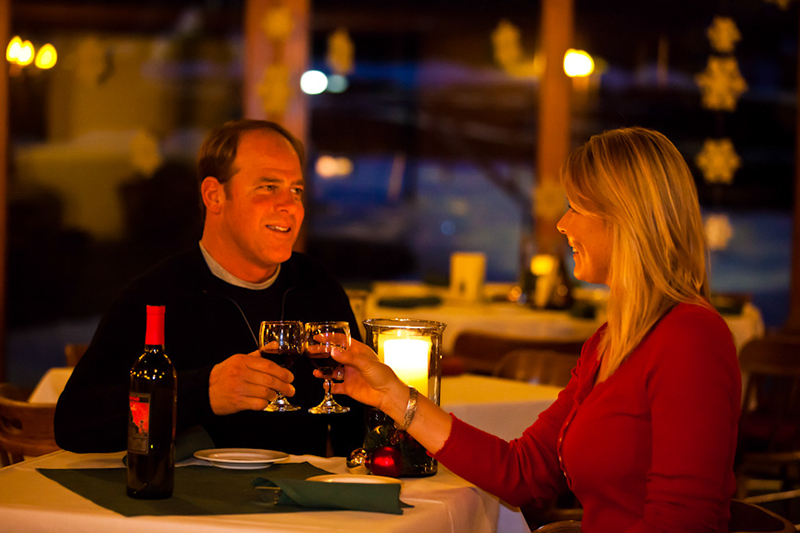 Enjoy a romantic dinner at Cedar House Pub at Granlibakken Tahoe. Photo courtesy of Tor Johnson and Granlibakken Tahoe.
For the Bluegrass Couple
You and your sweetheart are planning on making the trek up to Squaw Valley together for a romantic weekend set to the tune of your favorite music. Whether you're in a crowd of thousands or just you two, there's much to do around North Lake Tahoe for the visiting couple.
Enjoy a cozy and romantic dinner for two at Soule Domain, where the woodsy interior and cozy fireplace perfectly compliment a dinner and a dessert to split. For a little bit of indulgence, head to Christy Hill or Wolfdale's Cuisine Unique for a bit of fine dining to finish off a day of live music at WinterWonderGrass. Or, start your day off with breakfast in bed together with an order from Kings Cafe or Spindleshanks before you head out to the festival.
To get the most out of your WinterWonderGrass weekend, why not book your stay at one of North Lake Tahoe's various resorts, cabins and lodges for the ultimate alpine experience? Make sure to check out our frequently updated lodging deals when you book your stay—and don't miss event and value highlights in our monthly newsletter.