Tubing, Sledding and Snowplay in North Lake Tahoe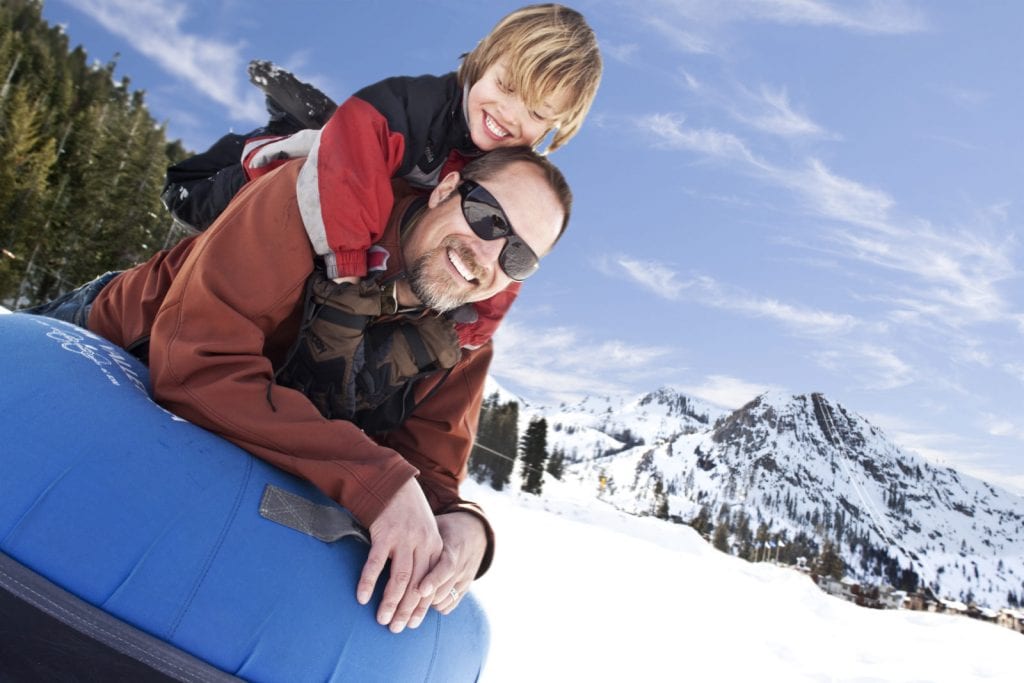 Many images come to mind when picturing winter in North Lake Tahoe. Some may think of the world-renowned ski resorts and images of the ski and ride greats like Jonny Moseley or Shaun White tearing up the mountain. But there's almost nothing as quintessential to winter as sledding, ice skating and just plain playing in the snow. Luckily North Lake Tahoe is packed with tubing, snow activities and ice rinks to fill up your schedule with family-friendly fun.
Visit one of the many resort where you can safely sled, tube and ice skate the day away. However, always check-in with resorts prior to visiting for the most up-to-date information.
No matter where you choose to play, please practice safe, legal and responsible parking. Only park in designated spots rather than just along the side of the road. Parking in an undesignated location can be incredibly dangerous, especially during winter driving conditions. And ALWAYS take your belonging and sledding equipment back home with you. Let's work together to keep North Lake Tahoe clean and pristine. Practice "slediquette" – No sled left behind!
Sledding and Tubing
Many resorts in the area offer hassle-free sledding and tubing opportunities. Make sure to call ahead to ensure you've got the right equipment.
Granlilbakken: Granlibakken ski area features a groomed snowplay area with rental saucers for sledding. Night sledding is also available on Saturday evenings. Zoom down the hill, lit by marketplace lights and fun disco lighting, before grabbing delicious Mexican food and hot toddies from their on-site food truck. Open daily, weather permitting.
Homewood Mountain Resorts: Their snowplay and sledding hill are perfect for the entire family and include a carpet lift to get you back to the top so you can slide more and walk less.
Northstar California: Take the Big Springs Gondola to mid-mountain for access to the tubing center. There, riders can then slide down solo or in daisy chains with friends.
Resort at Squaw Creek: Just beyond the Squaw Creek chairlift is the resorts designated sledding hill. They also offer sled and snow boot rentals at their Nordic Center.
Soda Springs Mountain Adventure: Mountain Adventure is an all-inclusive, one-ticket entry to a variety of winter fun activities including Planet Kids, a playground of snowy discovery, and Tube Town.
Squaw Valley | Alpine Meadows: The SnoVentures Activity Zone is open daily with tubing, night disco tubing on select dates, and even miniature kid-sized snowmobiles.
Tahoe City Winter Sports Park: The family friendly sled hill is a great way to spend the afternoon. Disc rentals are included with the purchase of a sled hill session. No outside sleds are permitted.
Tahoe Donner Snowplay: One fee covers the cost to enter the Snowplay area with a groomed and monitored tubing lane along with sledding lanes. Tubes and sleds are provided, no outside equipment is allowed.
Spooner Summit Snow Play: An informal sledding hill, located at the junction of Highway 50 and Highway 28, is free for participants. You must bring your own sled and be prepared to take it home. The hill doesn't have any facilities so plan ahead. Parking is allowed in the lot at the base of the hill.
Ice Skating
Winters and early spring provide the perfect conditions to lace up some skates and glide over to one (or all!) of North Lake Tahoe's ice-skating rinks. And don't forgot helmets, at most locations they aren't required but it doesn't hurt to be safe!
Resort at Squaw Creek: Skate on the resort's private rink with heated waterfalls, hot tubs, a pool and the peaks of Squaw Valley as a backdrop. Rentals are available. Open December to April.
Tahoe City Winter Sporks Park: This ice rink is a welcomed amenity to downtown Tahoe City. The rink is one of the many activities at the all-inclusive area with the Sports Park sled hill, cross-country area and nearby restaurants and lodging properties.
Village at Northstar: The Ice Skating Rink is located in the heart of the Village at Northstar surrounded by shopping and dining spots. This 9,000 square foot rink is the center of activity, day and night. Rentals are available on-site.