Celebrate Mom with the Best Mother's Day Weekend in North Lake Tahoe
Mother's Day is Sunday, May 12, and the time has come to celebrate our moms and show them how much we appreciate them. Given just how hard moms work, why limit the festivities to just a single day?

Combining endless thrills with plenty of opportunities for leisure, North Lake Tahoe is the perfect getaway for every type of mom. Whether her idea of the perfect Mother's Day is spent on a scenic hike with her family in the great outdoors, or taking a bite out of the perfect dessert, mom's weekend in Tahoe is sure to be the best Mother's Day ever. Check out our guide to the ultimate Mother's Day weekend in North Lake Tahoe!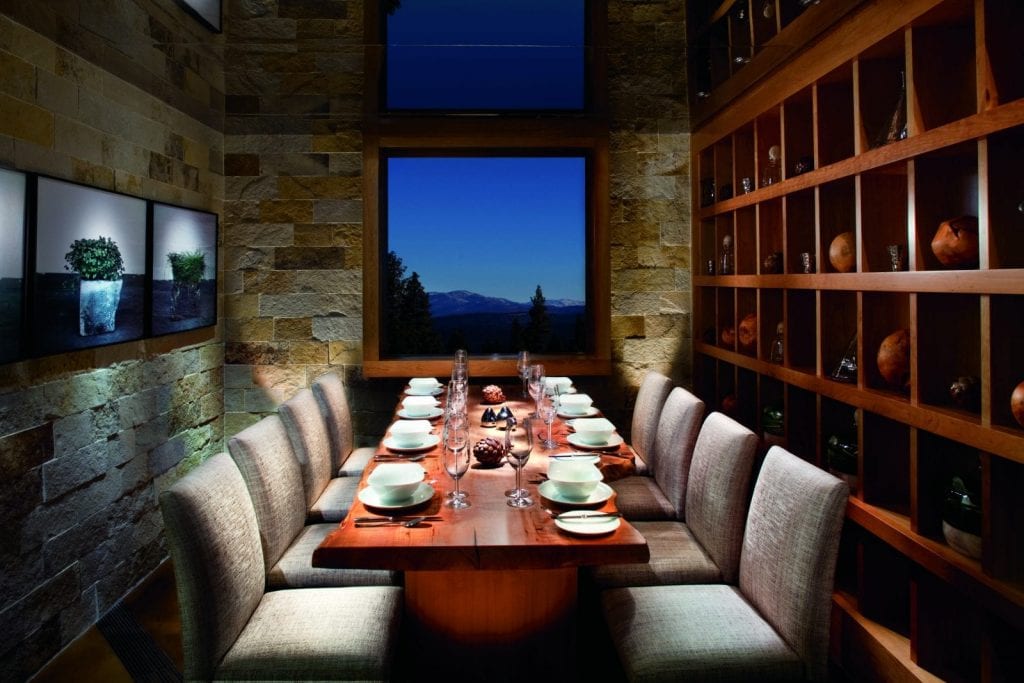 Enjoy a tasty brunch including unlimited champagne with mom at Manzanita. Photo courtesy of Chris Cypert.
Treat Mom to a Delicious Meal
Family meals provide the ideal setting to connect and celebrate mom on her special day.  From the foodie mom to the mom who craves a break from day-to-day cooking, North Lake Tahoe restaurants can provide the special treat she deserves.  
From sunup to sundown, lakeside to atop the mountain, all moms are bound to find the ideal spot just for her.
The perfect Mother's Day always begins with a delicious brunch to be enjoyed together, and North Lake Tahoe features no shortage of spectacular eateries to celebrate mom. For moms feeling lavish, toast to a Champagne Brunch at Manzanita at The Ritz-Carlton Lake Tahoe, Sundays from 12 p.m. to 2:30 p.m.

Manzanita's Brunch includes a seasonally-inspired menu featuring chilled seafood and charcuterie along with breakfast favorites, and an unlimited champagne and Bloody Mary bar!
For a lakeside view while you brunch, check out Lone Eagle Grille in Incline Village, right next to the Hyatt Regency Lake Tahoe. Not only does Lone Eagle's menu provides a variety of different specialties for whatever mom is in the mood for, but you can also treat mom to an after-brunch walk along the Hyatt's private beach!
For dinner, indulge mom with some of the best food to be found along the North Shore. At Gar Woods Grill and Pier, where she can enjoy delicious seafood, a signature Wet Woody, and a dazzling view of the sunset over the lake.

The Soule Domain is an upscale and extravagant restaurant disguised as a cozy log cabin, exemplifying the best of both worlds in Lake Tahoe with gourmet dining to make mom's dinner especially memorable.

Lastly, if you're looking to make this Mother's Day truly unique, look no further than Wolfdale's Cuisine Unique. This locally treasured dining delight is home to Local Luminary Douglas Dale, who brings his take on upscale dining to exciting, new places with fresh and local ingredients expertly crafted for the perfect meal.
For more options for brunch, dinner, or whatever else mom might be hungry for, check out our dining page!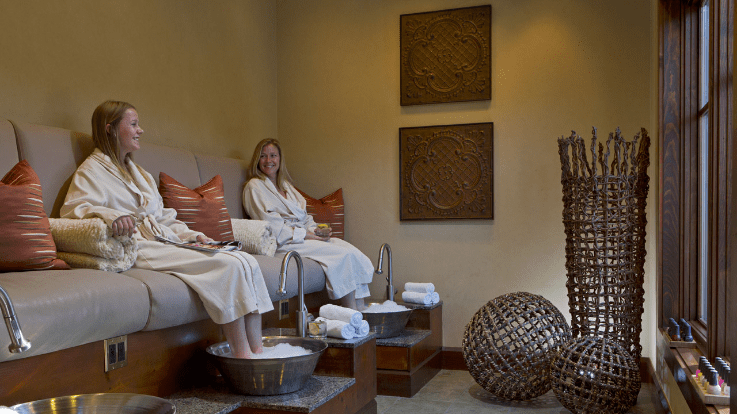 Spend some quality time with mom while you both relax at Stillwater Spa.
Photo courtesy of Hyatt Regency Lake Tahoe Resort, Casino & Spa
Relax and Unwind with Mom
It's mom's weekend and she deserves an opportunity to  kick back and be pampered for once.

For the mom that wants to indulge in the lap of luxury for her weekend, there's plenty for you to do together to have the most relaxing Mother's Day ever!
Check out some of North Lake Tahoe's most soothing spots to make mom feel extra special.

The Lighthouse Spa and Clearwater Spa in Tahoe City are local favorites, while Stillwater Spa & Salon at the Hyatt Regency Lake Tahoe Resort and the Spa at The Ritz-Carlton Lake Tahoe are spectacular for when you and mom are in an opulent mood. Schedule a massage, facial, or a special treatment and relax in one of the most beautiful settings on earth.
If your idea of relaxing is in a pool high atop the alpine mountains of Tahoe, take mom to High Camp Pool & Hot Tub at Squaw Valley|Alpine Meadows. Enjoy a scenic Aerial Tram ride to the swimming pool and hot tub, with the beauty and splendor of the Sierra Nevada visible while you swim and lounge around! As one of the most breathtaking places in North Lake Tahoe, coupled with all the fabulous amenities of a day at the pool, frolicking at High Camp makes for a Mother's Day well spent.
After a day of luxuriating, raise a glass to mom with wine tastings at Uncorked Tahoe for a deliciously elegant treat. With three locations in Squaw Valley, Tahoe City, and Truckee, as well as a Petra location at Northstar California Resort, these  wine bar and shops showcase a large selection of wines to sample and purchase! Glasses Wine Bar is another great option for an afternoon wine tasting, with 26 wines by the glass to sample! You can even bring your own food, or order delivery!

If your mom's idea of relaxing is with her new favorite glass of wine, this is one stop on your Mother's Day weekend that can't be overlooked.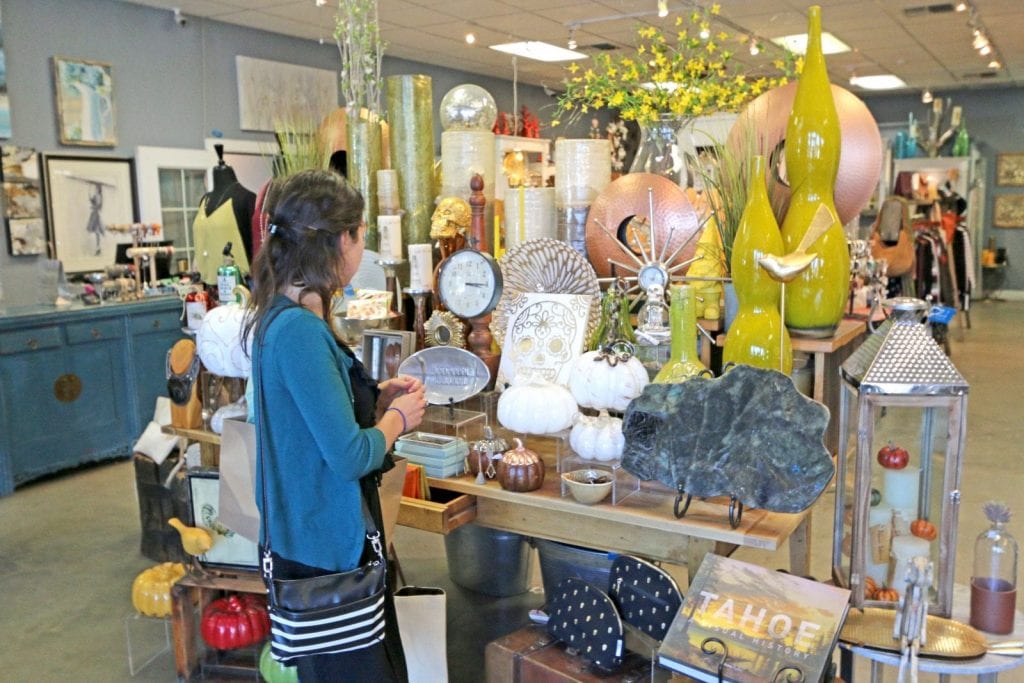 The perfect Mother's Day gift can be found on a shopping spree in North Lake Tahoe.
Photo courtesy of Incline Village General Improvement District
Splurge on Mom with a Shopping Spree
Everyone wants to be showered with gifts on their special day, and mom is no exception. So why not spend a little extra with a shopping spree around North Lake Tahoe, where it's easy to find the perfect gift? From clothing, to art, to something  distinctly Tahoe, mom is sure to find plenty of things that she'll love.
A few of North Lake Tahoe's resorts feature luxury, high-end shopping, such as The Village at Northstar and The Village at Squaw Valley. In Tahoe City, Boatworks Mall features a variety of different shops right on the shore of the lake, featuring everything from interior decorating at Hemmings & Jarrett to sweet treats at Tahoe City Chocolates.
In Kings Beach, pick up an uncommon momento from your time in Tahoe at Provisions or local jewelry and award-winning olive oils from The Robin's Nest. In Incline Village, find the perfect handmade gift at Handmade At The Lake or stop in at the shops at the Hyatt Regency Lake Tahoe.
For more places to find a great Mother's Day gift in North Lake Tahoe, check out our shopping page!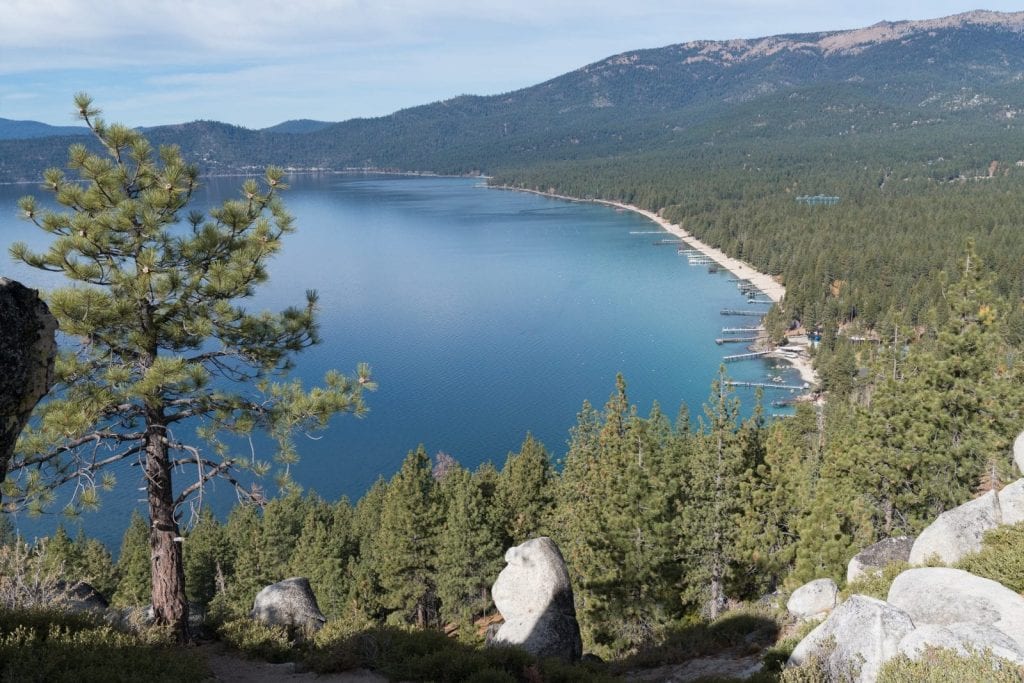 Celebrate mom with some fresh air and amazing views. Photo courtesy of Lisa Bao.
Take Mom on the Adventure of a Lifetime
For the adventurous mom that wants to celebrate her big day with the thrill of a lifetime—or who just wants to get out and get some fresh mountain air—North Lake Tahoe is one giant playground for her to experience. And since spring in Tahoe means being able to experience summer and winter activities in the same day, there's no limit to the activities you and your mom can do together.
With record snowfall over the winter and spring seasons, the fourth snowiest on record, travelers looking to get one final shred in before summer are in luck! Squaw Valley will operate daily through Memorial Day (May 27) and on weekends as late as July 7th; elsewhere, Alpine Meadows will operate into May. That means for moms that love to ski, or have always wanted to learn and never got the chance, this Mother's Day can be spent cruising down snowy hills with spectacular views.
For warmer weather activities, take mom on one of North Lake Tahoe's many scenic hikes and enjoy a beautiful day out on the trails.

The Tunnel Creek Trail, located near Incline Village, is a popular favorite thanks in large part to one of the best views of the lake that hikers are likely to find. You can even surprise your mom with the iconic Monkey Rock located on the trail, and snap some cute Mother's Day photos with the iconic ape.
And for a truly unique experience, hop aboard the Tahoe Gal for daily sightseeing on the lake. Whether she's in the mood for a lunch cruise, a sunset dinner cruise, or a cocktail cruise, mom is sure to love this unique Mother's Day activity. For more active lake experiences, take mom out on the lake and see Tahoe's signature clear waters for yourself with the Crystal Kayak experience through Wild Society. Head out on a clear bottom, double kayak and see the sights along the north shore in a new and visually striking way, sure to be your mom's most unforgettable Mother's Day yet.
Now that you've got your itinerary planned for the ultimate Mother's Day weekend, check out the deals on where to stay in North Lake Tahoe at our lodging page!