The Science of Cocktails
6:00 PM - 8:00 PM
Feb 01, 2019
UC Davis Tahoe Science Center
65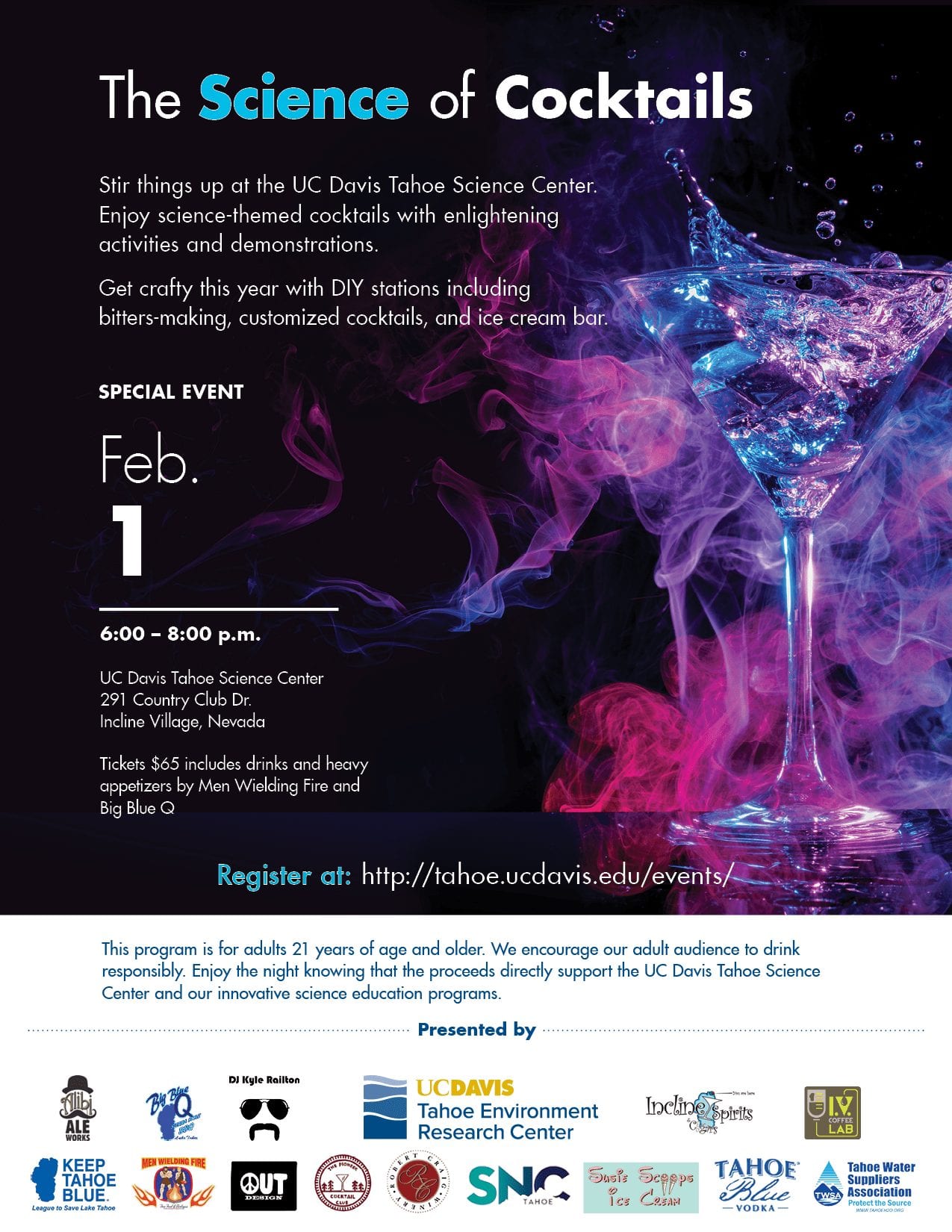 The Science of Cocktails is a unique evening event where mixology and science meet. This event will be held on Friday, February 1 from 6:00 – 8:00 p.m. at the Tahoe Science Center in Incline Village, NV. Tickets are $65 and include two drinks, heavy appetizers, dessert, and over 15 fun and interactive stations.
The UC Davis Tahoe Environmental Research Center (TERC), together with support from community partners, will host the 3rd annual Science of Cocktails with proceeds directly support the UC Davis Tahoe Science Center and innovative science education programs.
This year's event has a do-it-yourself theme with stations that include bitters making, whiskey tasting, and a liquid nitrogen ice cream bar. From centrifuge-clarified punch to vaporized cocktails, each station will have activities and demonstrations highlighting relevant concepts in science, as well as current UC Davis TERC research. Guests will see how sipping a margarita can change the temperature of their face using an infrared camera, understand the importance of the pH of the lake through color changing extracts, and discuss fermentation or biochemistry with local beer and wine experts.
Local vendors will be providing food, drink, and science education throughout the night. Support for this year's event comes from Alibi Ale Works, Incline Spirits, I.V. Coffee Lab, DJ Kyle Railton, League to Save Lake Tahoe, Peace Out Designs, The Pioneer Cocktail Club, Robert Craig Wine, Sierra Nevada College, Susie Scoops Ice Cream, Tahoe Blue Vodka, and Tahoe Water Suppliers Association. Heavy appetizers will be provided by Men Wielding Fire and Big Blue Q catering services.
This program is for adults 21 years of age and older. Participating adults are encouraged to drink responsibly.